Explore Your Community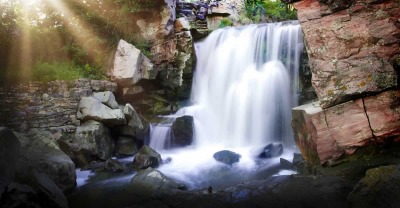 Pipestone National Monument
507-825-562-0260
36 Reservation Avenue
Website
This National Park Service site oversees and interprets the monument grounds that are sacred to many people because of the pipestone that is still quarried by American Indians at the site. Since 1946, the 56 pipestone quarries have been managed by issuance of a quarry permit.
Inside the Visitor Center are numerous activities including a museum, a 22-minute film, "Pipestone: An Unbroken Legacy," and cultural demonstrations from American Indian artisans who demonstrate the art of shaping and creating pipestone crafts and pipes.
Outdoor activities at the Monument include the Three Maidens picnic area, located along the entrance road to the Visitor Center. The Circle Trail Nature Walk, which begins and ends at the Visitors Center, is a paved walking trail that leads to several points of interest, including Winnewissa Falls.
Organized interpretive programs are available during the summer and include talks, guided walks, multimedia presentations and other activities.
The American Indian Movement holds an annual Sundance in July on the grounds of Pipestone National Monument that visitors, following rules for the sacred Native American ceremony, may witness.
Pipestone County Museum and Historical Society
113 S. Hiawatha Ave.
507-825-2563
Website
Located in the old City Hall Building at 113 S. Hiawatha Ave., the museum has standard exhibits as well as rotating exhibits on various topics. The museum is well-used locally for research and genealogical searches.
Meinders Community Library
1401 Seventh St. SW
507-825-6714
Website
Located on the south side of Pipestone Area Schools and the west side of Pipestone, this full-service library not only offers the essentials –– books, computers, DVDs, etc. –– but is a site for diverse programming all year long. Some of those events are designed for children, others for adults, others for all ages. Events include author visits and readings, stargazing with professional astronomers, yoga and aromatherapy events and hot dish and scrabble tournaments. There's something new every year.
Keepers of the Sacred Tradition of Pipemakers
Located in the historic Rock Island Railroad Depot along north Hiawatha Ave, this nonprofit American Indian organization sells Native American arts and crafts and provides guided tours of Native American sites within the region. The Keepers annually hold some type of American Indian event, whether a gathering or pow wow in the summer.
Historic Walking District
Walk through the downtown Historic District along Main Street in downtown Pipestone with a Walking Tour guide published by the city's Historic Preservation Commission. The guide gives a good understanding of the history of the development of Pipestone's Historict District, from the earliest brick building constructed in 1897. The distinctive buildings are constructed of local Sioux quartzite and contain many interesting features, such as gargoyles. Plaques located on the buildings also tell the story of each block.