Festivals and Fairs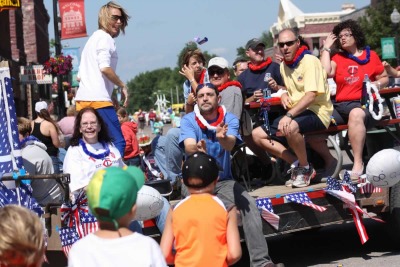 While Pipestone has many community events throughout the year, a few of the primary events are listed below.
Pipestone County Fair – annually held in late July, early August at the Pipestone County Fairgrounds located on the east side of Pipestone adjacent to U.S. Highway 75 and state Highway 30. This free fair includes 4-H, FFA and open class livestock exhibits and shows, static exhibits, a carnival, steak and pork community dinners and a ranch rodeo. Grandstand shows, requiring paid admission, include events such as tractor pulls, bull riding and demolition derbies.
Watertower Festival – Held the fourth weekend in June and named after the city's concrete water tower, a community landmark, the festival spans several days and includes a street dance, food vendors, arts and crafts vendors, a car show and the Water Tower Festival Parade.
Ghost Walk Tours – Saturday evenings, Memorial Day through Labor Day, costumed guides lead tours through Pipestone's downtown Historic District, spinning tales of the bizarre and unusual, as well as the area's rich history. A highlight of the tour is the Calumet Inn, which is a source of many paranormal activities and sightings.
Pipestone Civil War Days – Held every even-numbered year the second weekend in August, Civil War Days brings the Civil War to life for visitors of all ages. Approximately 400 re-enactors from through the upper Midwest portray soldiers from both armies as well as civilians from that time period. They demonstrate military encampements, drill, daily life, skirmishes and battles. Other activities includes appearances by Abe and Mary Lincoln, a fashion review, cannon demonstrations, children's activities and a Grand Ball.